vliepatex is the brand name for a mineral coated glass fibre material developed and produced by us. It is valued, in the polyurethane industry, as a substrate for PUR/PIR foam for the production of polyurethane insulation panels.
vliepatex has already distinguished itself as a standard product due to its versatile and innovative properties.
By specially modifying the recipe, we can reliably adapt vliepatex to your requirements. Printed or coloured in your corporate colours – we can realise almost every wish thanks to our extensive experience and expertise. This includes coating the materials with LDPE and HDPE plastics or bitumen. It is also possible to laminate the product with different materials.
As a specialist for the finishing of nonwoven materials, we can produce multi-fibre composites to meet your requirements. In the process, we can laminate glass fibre materials and also products made out of paper, film or fibre roving as multi-fibre composites to one another. For a specific range of application, we can even replace the metal on one side of a composite with a flexible surface facer thereby offering you a particularly economical solution.
Our breathable covering facer and substrate material is resistant to weathering and environmental influences. And it is also highly resistant to mould and rot. vliepatex releases any penetrate moisture instead of locking it in. In addition, the nonwoven material is highly flexible and therefore is also ideally suited for contoured surfaces.
All vliepatex modifications can be finished to meet fire classes from B2 to A2 according to DIN 4102-1, as well as classes E to A2 according to EN 13501-1.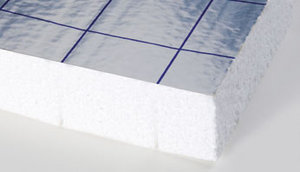 Tailor-made to your customer-specific requirements
Tailor-made to your customer-specific requirements

You're always on the safe side with vliepatex – it is high quality, economical and above all environmentally friendly. The manufacturing process is carried out without the use of organic solvents, dioxides or similarly harmful substances. During waste incineration, only water and carbon dioxide are left behind. And for landfill disposal, no toxic substances will be released into the environment.
In the mineral wool, stone wool, glass wool and polystyrene industry, vliepatex is a popular coating facer that expands the range of application for the produced insulating panels. Insulating panels laminated with vliepatex are just as suitable for acoustic applications as visible ceiling panels as they are for insulating panels in interior ceilings in cellars. Thanks to our various systems for applying the coating, we can regulate the thickness of the coating and its porosity and thus specifically adapt the product to your special requirements.
With the help of different base materials, vliepatex can fulfill other product-specific requirements. For example, if the panels need to be able to withstand high mechanical loads due to being walked on. We can additionally strengthen the carrier with fabric or woven materials for this purpose.
We offer you all of the expertise required to produce tailor-made roofing facers or carrier materials – also in small production quantities. This is our speciality. We can develop the right product together with you according to your specifications. And using prototypes, we ensure that the product is right before starting series production.

vliepa – future on a safe track!